Mirakelbebisar och märkvärdiga genealogier - Lärdomar för vår tid
Review of Sarah Franklin, Biological Relatives: IVF, Stem Cells, and the Future of Kinship (2013).
Keywords:
review, IVF, Stem cells
Abstract
Preview of text:
– Kan du vara snäll och tala om vilken väg jag ska gå härifrån?
– Det beror på vart du vill komma, sa katten.
– Det spelar inte så stor roll vart… sa Alice.
– Då spelar det inte så stor roll vart du går, sa katten.
– … bara jag kommer nånstans, förklarade Alice.
– Jamen, det gör du säkert, sa katten. Om du bara går tillräckligt långt. (Carroll 2009, 88)
Downloads
Download data is not yet available.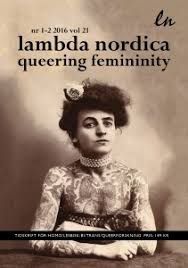 How to Cite
Gunnarsson Payne, J. (2018). Mirakelbebisar och märkvärdiga genealogier - Lärdomar för vår tid: Review of Sarah Franklin, Biological Relatives: IVF, Stem Cells, and the Future of Kinship (2013). Lambda Nordica, 21(1-2), 197-200. Retrieved from https://lambdanordica.org/index.php/lambdanordica/article/view/545