Att våga ta ett professionellt ansvar
Betydelsen av ett etiskt engagemang i det professionella arbetet med signifikant funktionshindrades sexualitet
Hanna Bertilsdotter Rosqvist
Keywords:
review, funktionshinder och sexualitet
Abstract
Review of Kulick, Don och Jens Rydström, 
Loneliness and Its Opposite: Sex, Disability, and the Ethics of Engagement
 (2015).
Preview of the text:
I flera studier sedan Tom Shakespeares, Kath Gillespie-Sells och Dominic Davies bok The Sexual Politics of Disability (1996) har kritik riktats mot osynliggörandet och förminskandet av sexualitetens betydelse för personer med funktionsnedsättningar. I dessa studier betonas återkommande negativa attityder och bristande förståelse och kunskap i omgivningen, liksom brist på stöd för utforskande och utövande av sexualitet. Vidare diskuteras det hur dessa brister leder till okunskap hos den funktionshindrade om sin egen sexualitet, sexuellt risktagande och risker för sexuellt våld och utnyttjande. Rätten till en sexualitet på egna villkor har varit ett sällan uttryckt krav inom funktionshinderrörelsen, som i större utsträckning har kämpat för tillgänglighet och sysselsättning, och mot diskriminering. Detta har lett till att sexualitet inom denna kontext har förblivit ett underpolitiserat och underteoretiserat fält.
Downloads
Download data is not yet available.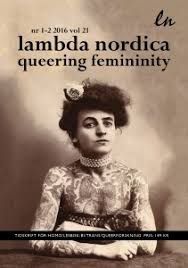 How to Cite
Bertilsdotter Rosqvist, H. (2018). Att våga ta ett professionellt ansvar: Betydelsen av ett etiskt engagemang i det professionella arbetet med signifikant funktionshindrades sexualitet. Lambda Nordica, 21(1-2), 185-190. Retrieved from https://lambdanordica.org/index.php/lambdanordica/article/view/542