Pariafemininitetens återuppståndelse
Diskurser om skådespelerskor runt sekelskiftet 1900
Keywords:
actress, diva, celebrity, pariah femininity, idealized femininity, class, critical femininity theories, Ellen Hartman
Abstract
The article discusses the strategies for to go beyond the boundaries of normative femininity in Sweden during the 1890s. The case study is the contemporary popular actress Ellen Hartman's strategies for a comeback in Stockholm. In 1891, she had created a scandal by breaking her contract with the Royal Dramatic Theater, eloping with a lover, and divorcing her husband. She wanted to remarry, but the plan backfired and she was abandoned. She became a victim of a smearing campaign in the Scandinavian press that portrayed her as a promiscuous and manipulative diva. By examining this discourse with the tools of critical femininity theories, I argue that actresses were regarded as a pariah femininity because of their occupation and class. The diva concept is discussed as femininity in a category of its own. As a larger than life character that defies her social shame divas embodies a feministic potential. By following the smearing campaign against Hartman, I argue that it had ideological overtones. The conservative papers stood for the slandering, while the liberal papers worked for her comeback. I argue that this political feud reflects anxiety about modern femininity where conservative forces sought control over which categories of femininity should be acceptable in the modern Swedish society. Hartman became a refugee in shame and moved to Paris. She wanted to launch an international career. By letters and interviews in the press, it is possible to follow her strategies. She immediately started to improve her French and use her network. Through her connection with famous French actor Coquelin aîné, she got an offer to be his co-star in his upcoming tour to Russia and Scandinavia. She also took the diva concept, which originally was meant by the press as derogatory, and used it to her advantage. In interviews to liberal Scandinavian papers from Paris, Hartman discursively transformed her image to a diva. Through a photo by the famous French photographer Nadar, she appears as a glamorous woman who is also a hard working artist, loved by the audience and rewarded by the establishment. It is a visual self-representation as a diva. As a star in Coqulin's company she made her first comeback in Stockholm as a French-speaking actress. By the audience's reactions, it became clear that a more permanent comeback would be possible. Hartman returned to Paris, studied at the Conservatory and then made a successful debut in Versailles. Thereafter she was contracted at the prestigious Théâtre du Vaudeville in Paris and had some success. However, she soon decided to return to Stockholm permanently in November 1893. Now her popularity reached zenith. The diva persona combined with her association with personal notoriety transformed her into a gender model that definitely obtained her authenticity as a diva. I argue that by overcoming her social shame and reinvent her self as a diva, she managed to transgress the boundaries of contemporary idealized femininity and embody a feministic potential.
Downloads
Download data is not yet available.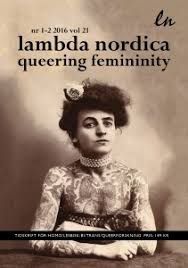 How to Cite
Ohlsson, H. (2018). Pariafemininitetens återuppståndelse: Diskurser om skådespelerskor runt sekelskiftet 1900. Lambda Nordica, 21(1-2), 80-106. Retrieved from https://lambdanordica.org/index.php/lambdanordica/article/view/538