Crossdressing i amerikansk fil:m Från kvinnor i pojkroller till lesbian vogue
Review of Laura Horak, Girls Will Be Boys: Cross-Dressed Women, Lesbians, and American Cinema. (2016).
Keywords:
review, crossdressing, lesbians
Abstract
Preview of the text:
De flesta tänker nog på Greta Garbo, Marlene Dietrich och Katharine Hepburn om det blir tal om kvinnor i manskläder i äldre amerikansk film. I Queen Christina (1933) går den läckert androgyna Garbo klädd i vackert skurna manskläder och i en passionerad scen kysser hon sin hovdam Ebba Sparre mitt på munnen. I Morocco (1930) uppträder Marlene Dietrich i hatt, frack och fluga på scenen och i en paus mellan två sångnummer går hon fram till en av kvinnorna i publiken och ger henne en eldig kyss.
Downloads
Download data is not yet available.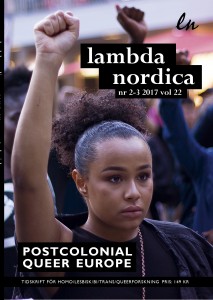 How to Cite
Borgström, E. (2018). Crossdressing i amerikansk fil:m Från kvinnor i pojkroller till lesbian vogue: Review of Laura Horak, Girls Will Be Boys: Cross-Dressed Women, Lesbians, and American Cinema. (2016). Lambda Nordica, 22(2-3), 193-197. Retrieved from https://lambdanordica.org/index.php/lambdanordica/article/view/523