Homonasjonalisme på tvers av nasjonale grenser
Review of Anna Maria Sörberg, Homonationalism (2017).
Keywords:
review, Homonationalism
Abstract
Preview of the text:
På 1990- og begynnelsen på 2000-tallet ble heteronormativitet et vanlig begrep i transnasjonal queer diskurs. Som et brudd med refrenget om den heteronormative nasjonen kom Jasbir Puar i 2007 med monogra - en Terrorist Assemblages: Homonationalism in Queer Times. Puar etablerte begrepet homonasjonalisme for å studere hvordan LHBTQ-rettigheter1 har blitt et barometer for å måle nasjonal overlegenhet gjennom at en- kelte nasjoner har fått status som "homovennlige". Puar (2007) gransker spesielt hvordan fremstillingen av USA post 9/11 som "homovennlig" er forbundet med stereotypi sering av muslimer og personer med arabisk bakgrunn som homofobe, motstand mot innvandring og legitimering av militære intervensjoner i Midtøsten (se også Puar 2013a; 2013b).
Downloads
Download data is not yet available.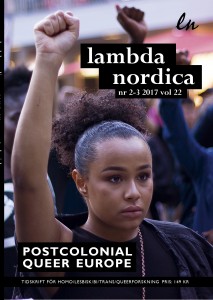 How to Cite
Nord, I. (2018). Homonasjonalisme på tvers av nasjonale grenser: Review of Anna Maria Sörberg, Homonationalism (2017). Lambda Nordica, 22(2-3), 179-184. Retrieved from https://lambdanordica.org/index.php/lambdanordica/article/view/520