En etnografisk djupdykning i BDSM
Review of Charlotta Carlström, BDSM: Paradoxernas praktik (diss.). (2016).
Abstract
Preview of the text:
Den svenska humanistiska och samhällsvetenskapliga forskningen om sexualitet har alltför sällan tagit sig an BDSM (bondage, disciplin, dominans, underordning, sadism, masochism), men nu har äntligen en svensk avhandling som är späckad med empiri kommit. Att ringa in fenomenet BDSM är i sig en utmaning då det framför allt kan beskrivas som ett paraplybegrepp för en rad olika praktiker, identiteter, beteenden och uttryck, som ofta, men inte alltid, är sexuella. BDSM är inte heller helt avgränsat från vaniljsex, det vill säga så kallat vanligt sex. Charlotta Carlström fångar skickligt in komplexiteten i utövandet av BDSM och är noggrann med att definiera begrepp så att även den som är helt oinitierad kan följa med i avhandlingens olika delar.
Downloads
Download data is not yet available.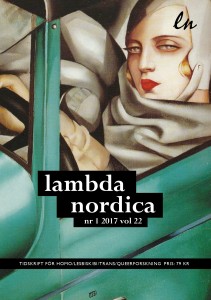 How to Cite
Sörensdotter, R. (2018). En etnografisk djupdykning i BDSM: Review of Charlotta Carlström, BDSM: Paradoxernas praktik (diss.). (2016). Lambda Nordica, 22(1), 130-133. Retrieved from https://lambdanordica.org/index.php/lambdanordica/article/view/502