Könsöverskridningens konst Bild och begär hos antikens Hermafroditos
Review of Linnea Åshede, Desiring Hermaphrodites: The Relationships of Hermaphroditus in Roman Group Scenes (diss.). (2015).
Keywords:
review, Hermaphroditus, 1500s
Abstract
Preview of the text:
Den antika konsten har åtminstone sedan 1500-talets renässans utgjort en måttstock för "konstens alla regler" när det gäller den fysiska skönheten som ett upphöjt ideal. Med måttfulla proportioner och balanserade poser, gestik och uttryck har framför allt de antika skulpturerna blivit själva sinnebilden för klassisk skönhet och etablerat seglivade normer för hur vackra kvinnor och män ser ut. Genom historien har dock dessa konstverk dragit till sig blickar som inte hållit sig till normerna. Den tyske historikern Johann Joachim Winckelmann (1717–1768) är känd som den västerländska konsthistoriens grundare – vid mitten av 1700-talet började han skriva om antik historisk konst både utifrån dess egen kontext och sitt eget betraktarperspektiv
Downloads
Download data is not yet available.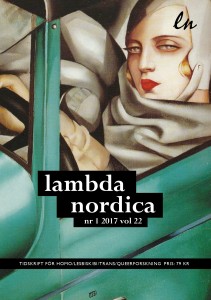 How to Cite
Steorn, P. (2018). Könsöverskridningens konst Bild och begär hos antikens Hermafroditos: Review of Linnea Åshede, Desiring Hermaphrodites: The Relationships of Hermaphroditus in Roman Group Scenes (diss.). (2015). Lambda Nordica, 22(1), 125-129. Retrieved from https://lambdanordica.org/index.php/lambdanordica/article/view/501