Articulate Questioning of Heteronormative Practices, Performances and Perspectives in Queer Design Practice
Review of Maja Gunn, Body Acts Queer: Clothing as a Performative Challenge to Heteronormativity (diss.). (2016).
Keywords:
review, Heteronormative Practices, Queer Design Practice
Abstract
Preview of the text:
Maja Gunn's practice-based doctoral thesis that explores experimental fashion design through a lens of power, sexuality and gender as performative processes finishes with series of short quotations from the participants in the project that make up the body of practice work in Body Acts Queer. It is pertinent to start my review with noting the final words of Gunn's thesis as she makes extensive and creative use of words, texts and speech acts in her practice and examines their importance and relevance within the thesis. The thesis itself begins with the design and performance projects that constitute the "action research" and practice elements of the thesis; the first of which, On and Off, is presented here as a series of written texts that had been performed by Gunn as a monologue or "speech act."
Downloads
Download data is not yet available.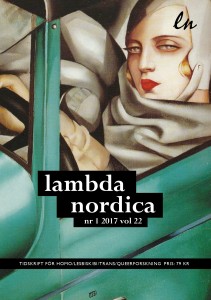 How to Cite
Cole, S. (2018). Articulate Questioning of Heteronormative Practices, Performances and Perspectives in Queer Design Practice: Review of Maja Gunn, Body Acts Queer: Clothing as a Performative Challenge to Heteronormativity (diss.). (2016). Lambda Nordica, 22(1), 121-124. Retrieved from https://lambdanordica.org/index.php/lambdanordica/article/view/500