Queer i transnationell förvandling
Review of Elisabeth L. Engebretsen, William F. Schroeder med Hongwei Bao, Queer/Tongzhi China: New Perspectives on Research, Activism and Media Cultures. (2015).
Keywords:
review, activism, media cultures, china
Abstract
Preview of the text:
"ÄR DU T ELLER P?" Denna fråga ställdes ofta då jag under våren 2008 frekventerade Beijings lala-barer. Jag kom att förstå frågan som ett sammanflätande av sexuella praktiker och genusuttryck, där T i princip står för butch, eller kanske snarare tomboy, och P för femme, eller möjligen en mer traditionell femininitet. I detta trevande efter begripliga betydelser förstod jag samtidigt att frågan (och dess svar) är långt mer komplex. En europeisk, queer sensibilitet kan ge någon form av ingång, en rudimentär förståelse av situationen, men kommer utan språklig och kulturell fördjupning alltid att sakna skärpedjup.
Downloads
Download data is not yet available.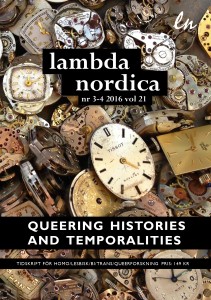 How to Cite
Sundén, J. (2018). Queer i transnationell förvandling: Review of Elisabeth L. Engebretsen, William F. Schroeder med Hongwei Bao, Queer/Tongzhi China: New Perspectives on Research, Activism and Media Cultures. (2015). Lambda Nordica, 21(3-4), 162-165. Retrieved from http://lambdanordica.org/index.php/lambdanordica/article/view/533