Spectacles of Silence
The Queer in 1910s' Finnish Literature
Keywords:
queer, Finnish literature
Abstract
Preview of the text:
Two men talk – or a man and a ghost, to be precise. The ghost, Arkadj Petrovitsj Jemeljanoff, when still alive, was a lieutenant in the Russian army and a leader of a military mutiny that took place in Helsinki in 1906. Because of the unsuccessful rebellion, the lieutenant was executed, but now in 1917, the year this play is written, his revolutionary spirit returns, revived by the Russian February Revolution. The other man, Vasja, has become a coachman, but he used to serve under Jemeljanoff. At present, the ghost really wants some tea.
Downloads
Download data is not yet available.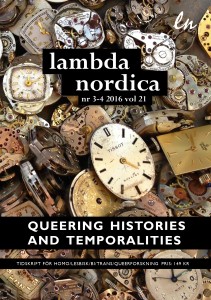 How to Cite
Hyttinen, E. (2018). Spectacles of Silence: The Queer in 1910s' Finnish Literature. Lambda Nordica, 21(3-4), 35-55. Retrieved from http://lambdanordica.org/index.php/lambdanordica/article/view/526