Pleasure and Politics: An Important Analysis of Performance
Review of Tiina Rosenberg, Don't Be Quiet, Start a Riot! Essays on Feminism and Performance (2016).
Keywords:
queer feminism, review, pleasure and politics
Abstract
Preview of the text:
This anthology of Tiina Rosenberg's scholarship offers readers an historical journey through a queer feminist analysis of performance that includes film, theatre, popular music, and performance art. The collection spans twenty years of Rosenberg's career as a performance studies scholar, and thus provides insights into the ways that her work has contributed to the field. Themes of death, survival, and pleasure guide this collection of essays, and Rosenberg does not hesitate to provoke readers by insisting that we question the feminist pleasures we may find in audiencing performance.
Downloads
Download data is not yet available.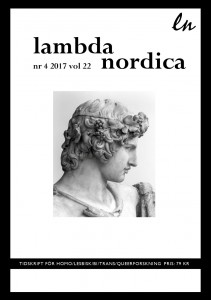 How to Cite
Whitney, E. (2018). Pleasure and Politics: An Important Analysis of Performance: Review of Tiina Rosenberg, Don't Be Quiet, Start a Riot! Essays on Feminism and Performance (2016). Lambda Nordica, 22(4), 142-145. Retrieved from http://lambdanordica.org/index.php/lambdanordica/article/view/511