Tystnad och osäkerhet - Viktig avhandling om dagens sexuella mörker
Review of Julia Bahner, Så nära får ingen gå? En studie om sexualitet, funktionshinder och personlig assistans (diss.) (2016).
Keywords:
sexualitet, funktionshinder, personlig assistans
Abstract
Preview of the text:
Fördelen med sammanläggningsavandlingar är deras klara och tydliga struktur. Med fyra väl avgränsade undersökningar och en inledande kappa kopplar Julia Bahner ett brett grepp om person­lig assistans och sexualitet i Sverige och undersöker förutsättningarna för sexuell assistans. Denna kan bestå av många olika saker: att ge till­ gänglig sexualupplysning, skapa miljöer som tillåter intimitet, respek­tera behovet av privatliv, uppmuntra och underlätta social interaktion, tillhandahålla betalda sexuella tjänster eller att underlätta onani eller samlag med en annan person (Earle 2001). Genom att arbeta med olika aspekter av sexuell tillgänglighet, menar Bahner, kan vi skapa den "inti­mitetens arkitektur" som är nödvändig för att personer med funktionsnedsättning ska kunna utveckla sexualitet och känsloliv.
Downloads
Download data is not yet available.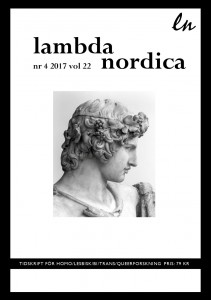 How to Cite
Rydström, J. (2018). Tystnad och osäkerhet - Viktig avhandling om dagens sexuella mörker: Review of Julia Bahner, Så nära får ingen gå? En studie om sexualitet, funktionshinder och personlig assistans (diss.) (2016). Lambda Nordica, 22(4), 138-141. Retrieved from http://lambdanordica.org/index.php/lambdanordica/article/view/510