Språkaktivism och re_aktioner
Review of Daniel Wojahn, Språkaktivism: Diskussioner om feministiska språkförändringar i Sverige från 1960-talet till 2015 (diss.) (2015).
Keywords:
Språkaktivism, feministiska språkförändringar, review
Abstract
Preview of text:
"[V]AD GÖR EN när en saknar ord? När en inte kan uttrycka det en vill i språket? När de orden som finns känns fel eller diskriminerande? En skapar nya ord!" Så skriver Daniel Wojahn (2015, 9) i sin avhandling om feministisk språkaktivism, motståndet mot sådan aktivism, samt relationen mellan denna och den institutionaliserade svenska språkvården (Språkrådet och Svenska Akademien). Ämnesdisciplinen är Nordiska språk. I Sverige är området "feministisk lingvistik" inte särskilt väletablerat, utan den genusinriktade språkvetenskapliga forskningen har i stället hittills dominerats av inriktningen "språk och kön". Det vill säga framför allt samtalsanalyser av hur kvinnor och män använder språket, tar och ges samtalstid och så vidare, studier som mestadels är utförda med en binär könsteoretisk hållning. Med Wojahns avhandling tar fältet "feministisk språkforskning" ett stort steg framåt.
Downloads
Download data is not yet available.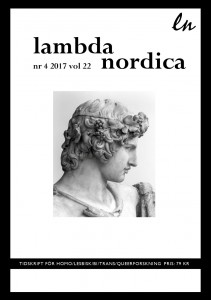 How to Cite
Manns, U. (2018). Språkaktivism och re_aktioner: Review of Daniel Wojahn, Språkaktivism: Diskussioner om feministiska språkförändringar i Sverige från 1960-talet till 2015 (diss.) (2015). Lambda Nordica, 22(4), 133-137. Retrieved from http://lambdanordica.org/index.php/lambdanordica/article/view/509