Inter- og transkønnede livs levelighed
Review of Marie-louise Holm, Fleshing Out the Self: Reimagining Intersexed and Trans Embodied Lives through (Auto)biographical Accounts of the Past (diss.) (2017).
Keywords:
Reimagining Intersexed and Trans Embodied Lives
Abstract
Preview of the text:
BÅDE HISTORISK OG aktuelt formes ikke-ciskønnede personers liv- muligheder afgørende af, hvorvidt de myndigheder, der afgør ens skæb- ne, er i stand til at forestille sig ens liv som leveligt. Denne forestillings- evne kan vise sig at være endog meget langt fra den ikke-konventionelt kønnedes, og det er netop dette spænd mellem inter- og transkønnedes egne livsfortællinger og andres fortællinger om dem/os, som udgør om- drejningspunktet for Marie-Louise Holms afhandling. Overordnet er afhandlingens interesse den måde, hvorpå kategorierne "interkønnet" og "transkønnet" i de første to tredjedele af det 20. århundrede udspal- tes af betegnelsen "hermafrodit".
Downloads
Download data is not yet available.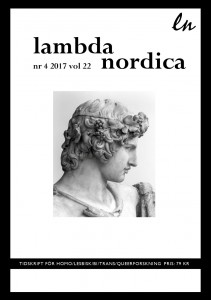 How to Cite
Bissenbakker, M. (2018). Inter- og transkønnede livs levelighed: Review of Marie-louise Holm, Fleshing Out the Self: Reimagining Intersexed and Trans Embodied Lives through (Auto)biographical Accounts of the Past (diss.) (2017). Lambda Nordica, 22(4), 129-132. Retrieved from http://lambdanordica.org/index.php/lambdanordica/article/view/508